Jul 29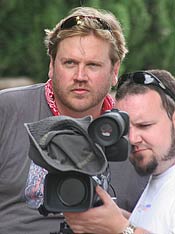 David LaFontaine has more than 20 years experience as a journalist, editor, and multimedia producer working on a variety of projects in film, television, print, radio, and the Internet.
He is a partner in Artesian Media, Inc., an Internet consulting firm, and the Managing Editor of the "Audience Planbook," an effort by the Newspaper Association of America to build a living document that will guide newspapers through the process of developing new, more profitable products.
David has produced a series of case studies for the NAA, the World Association of Newspapers (WAN), and the Online Journalism Review (OJR.org). He's also a popular blogger whose work can be found on Sips from the Fire Hose, LA Voice, and Hard News Inc.
His foray into "New Media" began in 1998, when he co-founded the Single Parent Magazine. He also worked as Managing Editor for Filmson.com, a film and video Web site that helped shape the evolution of streaming media.
From 2000 to 2002, Dave worked on a 2-year investigative project for ABC's PrimeTime. Over the past several years, he has studied and experimented with the best methods of combining audio, video, still photos, and plain old text to capture and retain modern readers.
In the early 90s, David covered politics and entertainment in Los Angeles, writing for a variety of publications, including Star Magazine, News of the World, Daily People, Oggi, Voici, Bild Zeitung, Hello, New Idea, and Women's Weekly. That experience led him to write a tell-all book called The Poison Pen, which was published by Dove Books in 1996.
Prior to that, David was the managing editor of the Caracas Daily Journal and then freelanced stories from Colombia, Ecuador, Peru, Bolivia, El Salvador, and Guatemala. He speaks fluent Spanish and worked as an editor and reporter in Latin America for nearly three years. David won a Pulliam Fellowship that helped him start his career at the Arizona Republic in 1987.
David's interest in online communications dates back to the early days of Prodigy and 2400 baud modems.
For more information, email Dave at DavidLafontaine.com.
Interests
journalism, multimedia, streaming video, documentary movies, James Ellroy, Hunter S. Thompson, the Green Bay Packers, pop art, pop culture, pop psychology, pop tarts.
Website: http://www.davidlafontaine.com